Battery Saver is a feature of Windows that will limit notifications and background activity.
When you enable Battery Saver, your laptop temporarily disables some power-hungry features, such as automatic email and calendar synchronization, live tile updates, and programs you don't actively use.
When the laptop reaches 20% battery life, Windows 11 automatically activates the battery-saver mode. And when you plug it into the mains, the battery saver will automatically be off. However, you can manually enable the power-saving mode and even change the battery level before the mode is activated automatically.
Activating Battery Saver Windows 11
Open the "Settings" of Windows 11. You can open it with a keyboard shortcut (WIN + I).
Then navigate to "System >> Power & battery".
Next, on the right-hand panel, click on "Battery saver" to expand and see its settings options.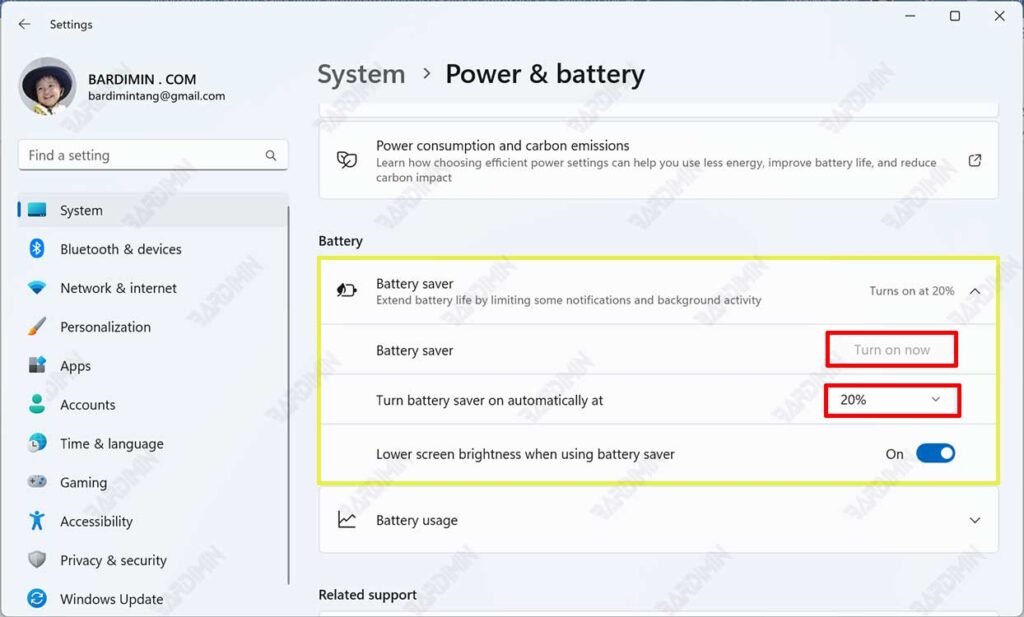 Click the "Turn on now" button if it is not already active.
Then in the "Turn battery saver automatically yet" setting, click the dropdown button to choose when the battery saver will activate automatically. You can choose to always activate or will only be active if the battery is at a certain level (x %).
Adjust Display Settings
Adjusting some of your laptop's display settings can help extend battery life. Some examples of what you can do are to change the "Settings" in Windows 11 as follows.
A. Set a shorter duration for the active view.
Navigate to "Settings >> System >> Power & battery >> Screen and sleep". Under "On battery power, turn off my screen after", select the shortest duration.
B. Reduce the brightness of your screen.
Under "Settings >> System >> Display > > Brightness", uncheck "Help improve battery by optimizing the content shown and brightness". Then drag the slider to get the brightness level you want.
C. Reduce the screen refresh rate.
Navigate to "Settings >> System >> Display >> Advanced display". And on "Choose a refresh rate", select the lowest speed. High speed will result in smooth movement but requires greater power consumption.
D. Select a custom graphics option for an application.
You can also set the use of graphic videos from certain applications. Navigate to "Settings >> System >> Display >> Graphics". Then on the list of applications, click on the application to expand and click the "Options" button. Next, select "Power saving".
E. Use a dark background.
Use a picture on the desktop with a dark background to save power. You can change it to "Settings >> Personalization >> Background"
F. Use a dark theme.
Dark theme will also help save power, you can change the theme on "Settings >> Personalization >> Themes >> Current theme".
Tips to Extend Battery Life
Keep your laptop connected to the mains until the battery is fully charged.
Turn on airplane mode if you don't need the Internet, Bluetooth, or other wireless communication.

Turn off the Laptop if you are not using it, and do not leave the laptop in "Sleep" mode for a long time.