Lithium-ion batteries are the most widely used type of battery in laptops because of their ability to charge quickly, discharge at a steady rate, and have a high energy density that allows for small cell sizes in the battery.
After a certain number of charge and discharge cycles, the capacity of the lithium-ion battery decreases. This means that you have to charge the battery more often, and the overall capacity of the battery may decrease.
When using your laptop, make sure the battery never goes below 50%. This will help in the reduction of degradation in the battery cells.
To help improve battery life and performance, keep the battery level between 20% and 80% several times each week, rather than using your device for short periods and then plugging it in to recharge the battery.
How to create a Battery Report in Windows 11
You can get all the information about the battery by creating a battery report. You will get information on installed battery specifications, recent usage, battery usage, usage history, battery capacity history, and battery life estimate.
To create a battery report, do:
Open " Command Prompt (CMD) ".
Then use the command:

Then open the battery report under "%USERPROFILE% \battery-report.html ".
Battery Report in Windows 11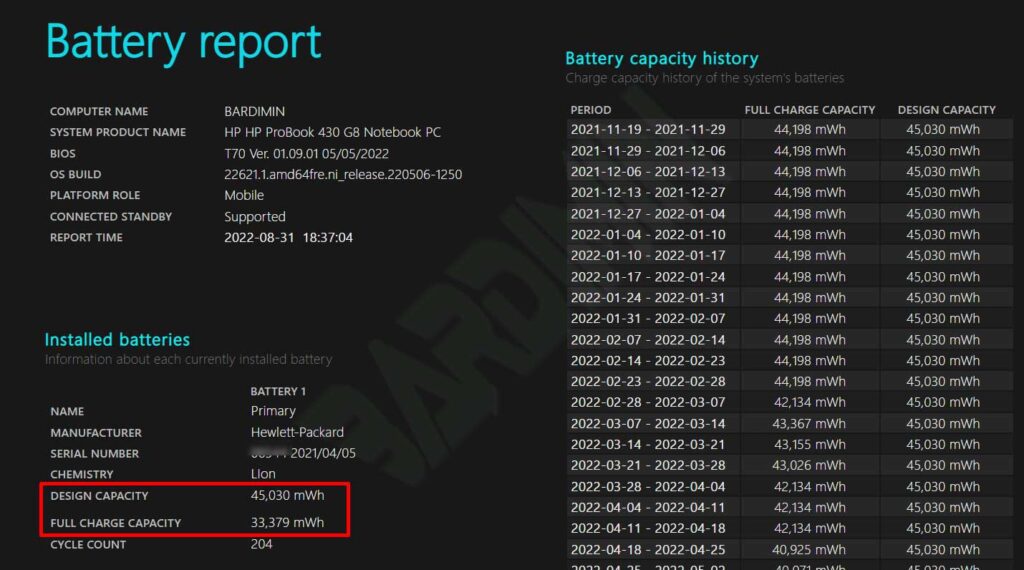 Battery Capacity Decrease
You can view the battery report in the "Installed batteries" section,
DESIGN CAPACITY: 45.030 mWh
FULL CHARGE CAPACITY: 33,379 mWh
A good battery will have a value between " DESIGN CAPACITY = FULL CHARGE CAPACITY ". The difference in value between the two is the value of battery cell degradation after a long time of use.
Recent usage

This section provides a detailed overview of when your device is running on battery or connected to AC power.
Battery Usage

This section shows the drained battery energy for the last three days before generating the report.
Usage History

This section displays a detailed history of each time the device is powered by battery or AC.
Battery capacity history

This section displays the history of Full Charge Capacity and Design Capacity. If the full charge capacity and design capacity differ by a significant amount, it may be time to replace the battery.
Estimated Battery Life

This section displays the approximate battery life based on the observed drains. This might help you estimate how long the battery will last on a full charge and at design capacity. You'll also see the current estimated battery life based on all detected drains since OS installation.