In Windows 11, Game Mode lets you play any game without lag or hang.
Game Mode is a special type of mode that helps the game run faster and smoother. In addition, Game Mode will optimize your system to improve performance and help solve performance issues on Windows 11.
When you enable Game Mode in Windows 11, all background processes are reduced or blocked to prioritize your games. Enabling the ability to play games on your computer is not a necessity. Enabling this function can dramatically improve the gaming experience.
By default, Windows 11 enables Game Mode and when it detects that a game is being played, Game Mode is automatically active.
How does Game Mode improve game performance?
When you use Game Mode, Windows prioritizes your gaming experience by:
1. Prevent Driver Updates
Enabling Game Mode will disable device driver updates. By default, Windows 11 enables driver updates and when you play a game in game mode, Windows will immediately prevent driver updates.
2. PreventIng Restart Notifications
When you play the game, all restart notifications are disabled, and the game mode guarantees that your gaming experience is uninterrupted.
3. Frame Rate Stabilization
Windows Game Mode will maintain a stable frame rate while playing the game. When the game mode is on, all system resources are directed to the game software. The game mode guarantees that the game works more smoothly and quickly.
How to enable Game Mode in Windows 11
Open "Settings". You can use keyboard shortcuts (WIN + I).
Navigate to "Gaming > Game Mode". Then swipe to the "right" button and switch on "Game Mode" to activate.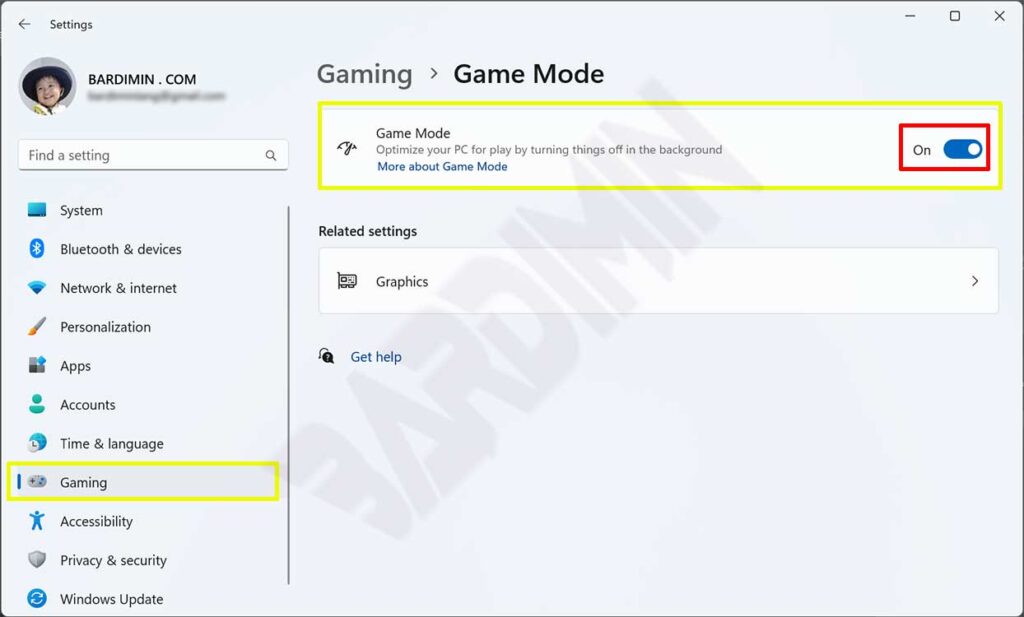 Close Windows 11 Settings.
How to Disable Game Mode in Windows 11
Repeat steps 1-2
Swipe to the "left" button and switch on "Game Mode" to disable it.