BloatyNosy is a free app that lets you remove the built-in junk apps in Windows that improve your Windows performance. The application is available in portable and installer versions.
If you are looking for a free Debloat tool, then you might need to try BloatyNosy (Bloaty & Nosy) as it can improve Windows performance. Windows 11 has come with very valuable features, but Windows also includes junk apps (apps you don't need) so it becomes a bloat for those users.
BloatyNosy is the successor of ThisIsWin11 (ThisIsWin11 will continue to be maintained for now). This version of BloatyNosy works on the last version of Windows 11.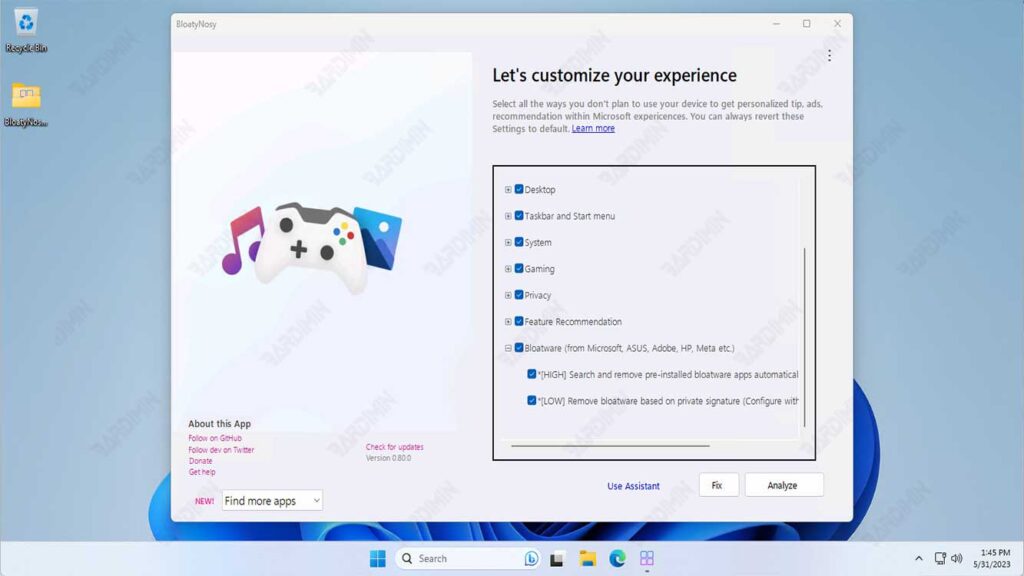 Windows 11 has many options and setting alternatives. And most users don't know where to find most of these settings, what to make, and which settings to optimize. This app is meant to streamline and group important settings in one app so that you can disable and remove unnecessary features through a single click.
BloatyNosy includes several modules that its developers will develop over time, so it will continue to grow, and it's nice to centralize features into a single app.
Key Features of BloatyNosy
Opsi to remove unwanted pre-installed applications, including doing it manually or automatically. Some built-in Windows apps, such as YourPhone or Xbox apps, can be removed using both methods.

Gives you the option to select and remove unwanted apps or software.
Simplifies all settings for ease of use.
InstaPackage streamlines the installation process by allowing us to install essential software quickly and easily using a single click.
With WinModder, expert users can leverage PowerShell and community scripts to combine code snippets and personalize Windows 11.
How to block Windows 11 with BloatyNosy
Before making any changes, we recommend creating a system restore checkpoint and being careful about implementing any adjustments. After that, you can use the debloating tool to turn off unnecessary functions and applications.
Through the interface in the lower right corner, "I want to set up Windows 11 for the first time", you will be able to call Windows 11 Setup/Assistant and customize your framework step by step and bloat it.
You can skip the assistant and directly select "Analyze" to let the application module on the main page handle the analysis completely. This module will check and repair a great many unnecessary components and make Windows 11 that has been debloated.
After that, by clicking onthe "Fix" option, you can choose between Apply Repair or Restore Default Settings.
On the next page, you have the option to navigate directly to a specific section or follow a guided tutorial to cut down on unnecessary content.
Download BloatyNosy