With an easy-to-use graphical user interface, Western Digital Dashboard allows users to maintain the best performance of Western Digital drives on the Windows operating system.
Western Digital Dashboard includes tools for disk analysis (including disk model, capacity, firmware version, and SMART attributes) and firmware updates.
How to use Performance Monitor
Performance Monitor is a tool that allows users to monitor the performance of the drive in real-time.
Performance Monitor uses The Performance Chart to provide information to the user. Performance Charts can show two different real-time performance metrics.
The graph will scroll from right to left showing a 5-minute timeline moving on the horizontal axis. The vertical axis of the chart will show the count of Mega Bytes per second or I/O operations per second.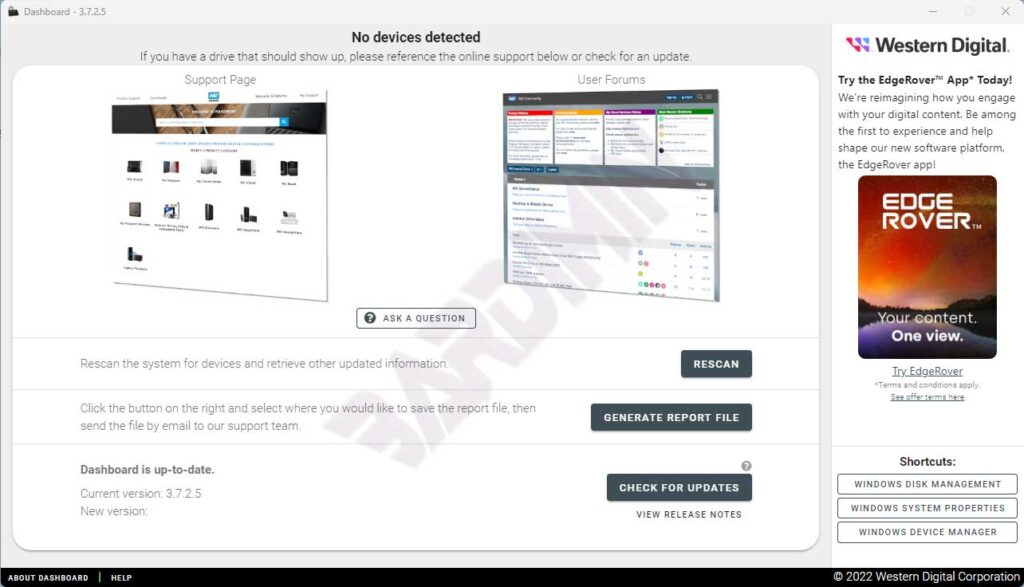 Data backup recommendations for updating firmware using Western Digital Dashboard
The firmware update should not affect the data on Western Digital drives. However, a firmware update may lead to data loss. Therefore, WD strongly recommends backing up all data before starting the firmware update.
WDC Dashboard Release Notes 3.7.2.5
Fixed a rare crash at startup caused by Windows returning an invalid string from the boot drive
Force all removal options through Linux embedded toolkit, which provides a more stable and feature-complete environment for drive removal
Enable Format on supported devices during frozen security status
Addresses an issue that causes long load times after running sanitizing on some devices
Addresses detection issues for P40 devices, and improves Dashboard performance when attached to USB ports with legacy standards
Addresses an issue for P50 devices that may cause stale data or an invalid LBA count to be displayed
Game Mode 2.0 file watcher Limited to only supporting local drives to the system and behavior adjusted to only start Game Mode on drives that launch games
Resolved an issue where Gaming Mode 2.0 can be left in the wrong state until the game starts when it is set to AUTO and the system is rebooted
Volumes are limited, with no letters, or names set to avoid being displayed on the Dashboard
Improved messaging related to NVMe SMART write and data cache settings for the better
Supported Operating Systems
Windows 11 32-bit & 64-bit
Windows 10 32-bit & 64-bit
Download