Transcend SSD Scope is advanced and user-friendly software that makes it easier than ever to maintain a healthy and efficient SSD.
SSD Scope brings together the latest technologies in determining the condition and optimizing the performance of an SSD.
Useful features include View Drive Information, View S.M.A.R.T. Status, Diagnostic Scanning, Secure Wipe, Firmware Update, TRIM Enable, Health Indicators, and System Clone.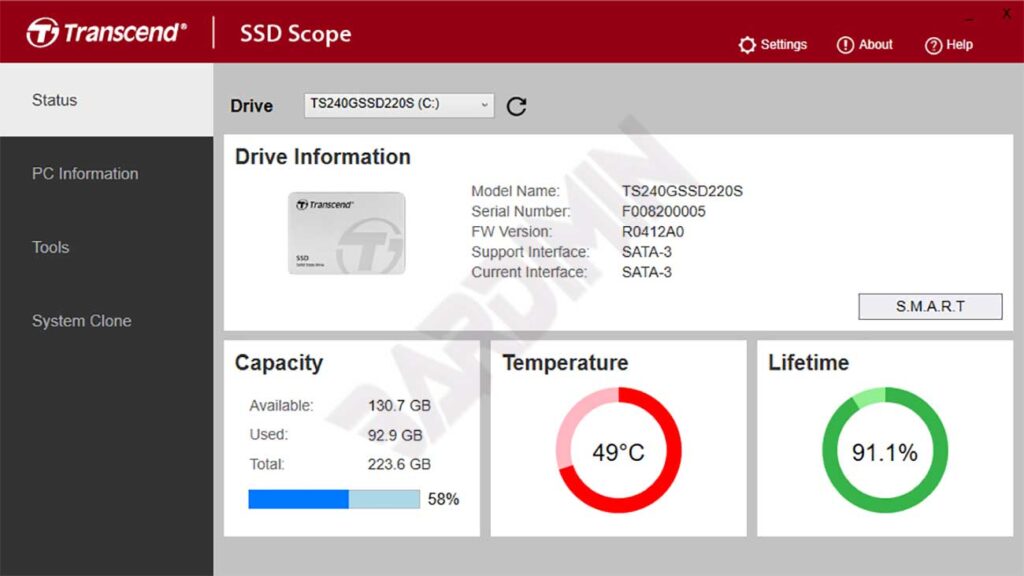 Transcend SSD Scope Features
View Info Drive & S.M.A.R.T. Status; Displays drive information and S.M.A.R.T. Status to monitor the health status of Transcend SSDs. MonitorS SSD in RAID 0 and RAID 1 modes.
Diagnostic Scanning; Evaluate the overall health of the data stored on your Transcend SSD.
Secure Delete; Use this function to permanently erase all data on the SSD.
TRIM Detection & Enable; Prevent future performance degradation of SSDs by automatically removing unwanted data.
Firmware Update; Use this function to update your Transcend SSD to the latest firmware version.
Health Indicators; Monitors the wear rate of Transcend SSD media. The value of the new SSD will show 100% and decrease with SSD usage.
System Clone; Copy data from your original drive, including operating system (OS), programs, and data, to your new Transcend SSD drive. There is nothing to reinstall, no need for settings, and no data to transfer.
Hardware Requirements
SSD Scope supports CFexpress 820 and CFX650 when the card is paired with RDE2 and RDF2 card readers
Supported Operating Systems
Microsoft Windows 7 or later
Download