Reduce Memory is a utility to reduce RAM usage by clearing the memory cache.
Delete as many pages as possible from the specified process work set. When too many programs use RAM (Random Access Memory), the system will become slow or unresponsive. To fix this, you need a utility capable of cleaning the system memory and freeing up your RAM in Windows.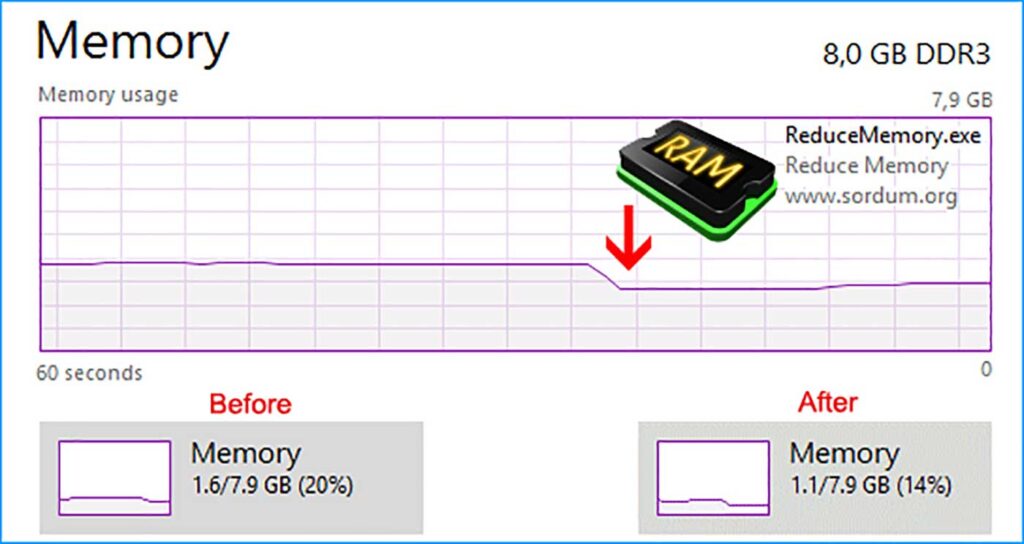 Reduce Memory Feature
It automatically starts when Windows boots, fills the window at start-up, minimizes it to the system tray, and always displays the Programs window above.
Optimize memory every x seconds.
Exclude processes from ram optimization.
Supported operating systems Reduce Memory
Windows 11, Windows 10, Windows 8.1, Windows 8, Windows 7, Windows Vista, and Windows XP.
Supported languages
English, Turkish, German, French, Korean, Russian, Spanish, Italian, Portuguese (BR), Persian, Romanian, Polish, Chinese (Simplified), Chinese (Traditional), Vietnamese, Dutch (Nederlands), Japanese, Arabic, Georgian, Greek, Azerbaijani, Lithuanian, Hebrew
Download Reduce Memory