BitLocker Drive Encryption is a data security tool that encrypts your disk to help keep your data safe.
The BitLocker feature will provide maximum protection when you use it with the Trusted Platform Module (TPM) version 1.2 or later.
The TPM is a hardware component that works closely with BitLocker to help protect user data and ensure that the computer is not tampered with while the system is running offline.
Is it safe to disable BitLocker?
If you disable BitLocker encryption, it will make your data more accessible to others. When BitLocker encryption is off, your data will be easily read by using other operating systems. Someone who intends to steal your data can use a Live CD application such as Hiren's BootCD PE. By running Hiren via USB Flash drive or CD-Rom, all your data will be copied easily.
When you are connected to the internet, BitLocker cannot protect you from hackers stealing your data. This happens because when you turn on your PC, your data has been decrypted for the system to read. To protect you from hackers when you are connected to the internet, you can use a Firewall and antivirus.
Enabling BitLocker encryption in Windows 11
To enable BitLocker encryption on Windows 11, you can follow the following guide. You can do the same way on Windows 10.
In the Windows search menu, type " bitlocker ". Then select " Manage BitLocker ".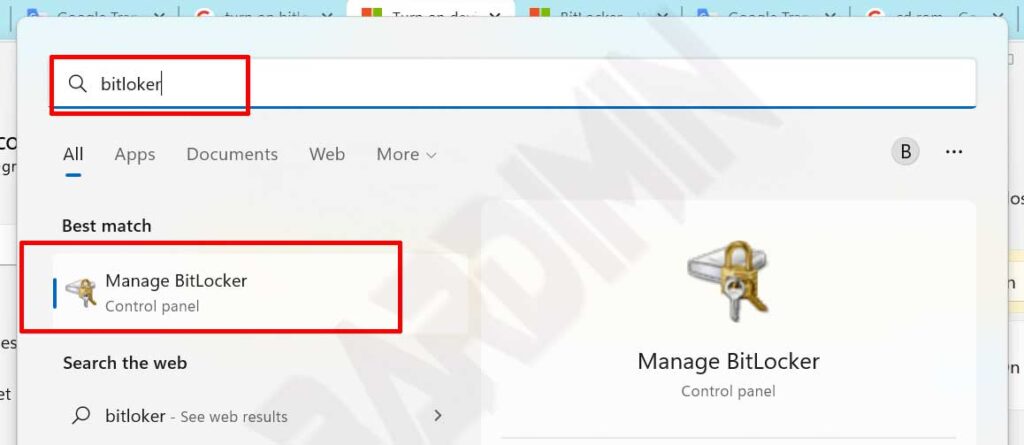 Then in the "BitLocker Driver Encryption" window, select the drive you want to encrypt. And then click the "Turn on BitLocker" button and follow all the instructions.
Save the "Recovery key" in a safe place. You will need this key to recover data in case your Windows encounters a problem at some point.
Disabling BitLocker encryption in Windows 11
To disable BitLocker encryption, go back to "Manage BitLocker". Then select it and click "Turn off BitLocker". In the confirmation window that appears, click the "Turn off BitLocker" button.