Windows 10 provides a " system repair disc " which is very useful if you experience problems such as boot failure. With a system repair disc, you can boot your PC/Laptop and repair any damage that has occurred and you can restore windows via the system image you created.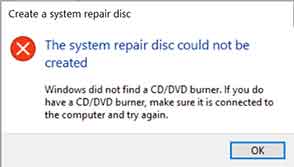 To create a CD/DVD from a system repair disc, you must have a CD/DVD burner that has the ability to read and write to a CD/DVD.
If you don't have it, you can use a virtual CD/DVD. Not all virtual CD/DVD utilities that currently exist have the ability to burn like a real CD/DVD. One of the utilities that Bardimin tried and works fine on Windows 10 is KernSafe TotalMounter is available for free.
What is KernSafe TotalMounter
TotalMounter is a free utility that allows users to create a Virtual CD/DVD burner to directly burn data to an ISO file instead of an optical disc (such as a CD or DVD).
Virtual CD/DVD burner is not the only feature of TotalMounter. Apart from that, you can also use it for almost all commonly used image files, such as .iso , .cdi , .bin, . mds , . mdf , . img , .raw , . ccd , . nrg . Apart from that, you can also mount virtual disk image files such as . vhd or . img . TotalMounter can work as an iSCSI Initiator allowing for entry to CHAP-protected targets. This is the perfect solution if you want to connect to the iSCSI Target created by the iStorage Server. You can also use it as an INetDisk client which allows you to connect to an INetDisk Server.
Features of KernSafe TotalMounter
Totally free
Allows installation of almost all popular image file types
Allows mounting of virtual hard disk file types
Easy to use
Built-in iSCSI initiator
Virtual CD/DVD burner
Provides CD-RW and DVD+RW emulators that allow you to "write" data to a CD/DVD drive, you can also create ISO9660 files using CD/DVD burning software.
Provides a CD/DVD-ROM emulator that mounts image files such as ISO, CDI, BIN, MDS, MDF, IMG, RAW, CCD, NRG into a virtual CD/DVD-ROM drive.
Provides an iSCSI Initiator to mount other iStorage Servers and iSCSI Targets.
Provides an INetDisk client to mount an INetDisk Server .
Mount and create disk Image files ( img ) and VHD files.
AES 256-BIT virtual disk encryption.
Provides Virtual Write technology, so you can copy files to a read-only drive and don't affect other people using other clients .
Provides as many as 8 virtual drives.
Provides simple and banusic management tools , to manage virtual drives.
Support for x86 and x64 machines.
There is no limit to disk capacity, total number of installed hard disks, number of CPUs or CPU cores, and amount of RAM.
Fully compliant with the latest iSCSI 1.0 Standard (previous 20 draft).
Steps to create a Virtual CD/DVD in Windows 10 with TotalMounter
Download TotalMounter .
Install the downloaded file. Follow all installation instructions.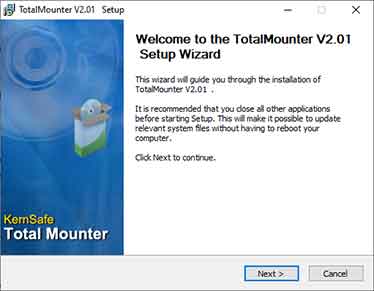 Click the "Install" button when the driver installation notification appears.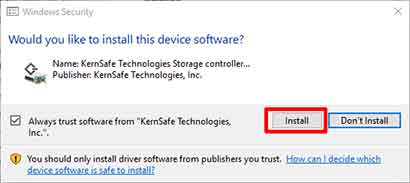 Open the " TotalMounter " application as a result of the installation.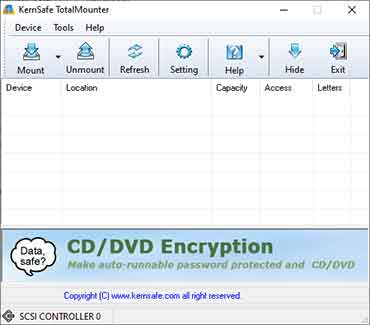 Click the "Mount" button then select "Virtual CD/DVD RW"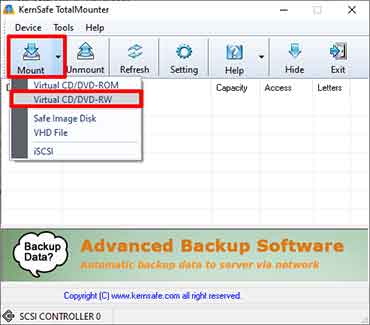 In the window that appears select the disc type "DVD/Blue-Ray" and then specify the capacity of the DVD to be used. Choose the capacity according to the DVD on the market, so that later if you need to burn to a DVD you can actually do it. In this example Bardimin uses a DVD with a capacity of 4.7 Gb- which is physically easy to get.
Then select the location to save the image file from the DVD, you can click the "Browse" button and choose a folder location and file name to save. Then click the "Finish" button to create a Virtual CD/DVD.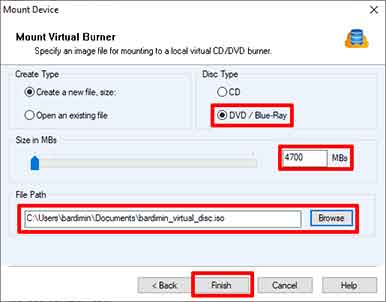 The virtual CD/DVD that you created will appear in the "file explorer".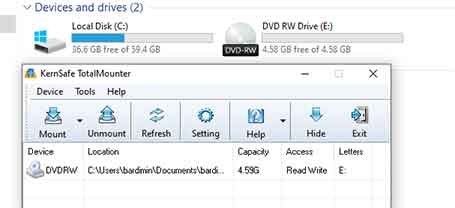 Burn it to the Virtual CD/DVD. In this example, you can create an image of a "system repair disc" without using a physical CD/DVD.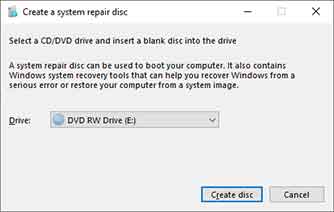 By using this TotalMounter utility, you can have a Virtual CD/DVD that functions like a real CD/DVD. You can use the same method for other applications that require you to have a CD/DVD to burn data.