CPU-Z is a utility capable of providing information with details from the CPU, Motherboard, RAM, SPD, and GPU.
Cpu-Z freeware can be used as a system profiling and monitoring tool for Microsoft Windows and Android that identifies the central processor unit of a modern personal computer, RAM, motherboard chipset, and other hardware characteristics.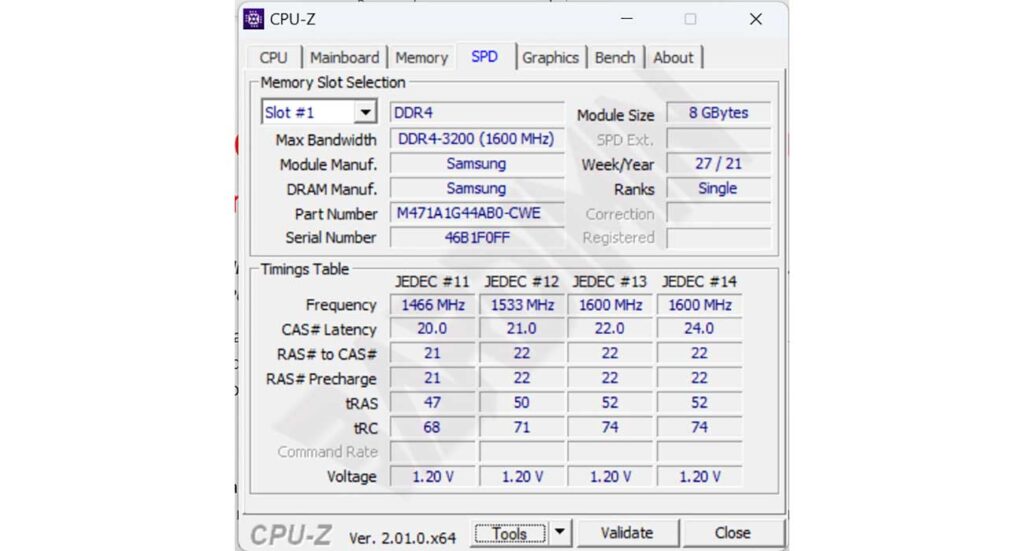 Feature
CPU-Z provides more detailed information than the tools provided by the Windows operating system to identify various hardware components and thus helps in identifying specific components without the need to open the case, especially the core revision and ram clock rate.  It also provides GPU information for the system.
Key information CPU-Z collects:
Processor name and number, code name, process, package, cache level.
Mainboard and chipset.
Memory type, size, timing, and module specification (SPD).
Real-time measurement of the internal frequency of each core, memory frequency.
Hardware Support
GPU Glenfly Arise-GT10C0.
Intel Core i9-12900T, Core i5-12600T (35W).
Intel Atom x6427FE, x6425RE, x6425E, x6414RE, x6413E, x6212RE, x6211E, x6200FE (Elkhart Lake, FCBGA1493).
Intel Pentium J6425, N6415 (Elkhart Lake, FCBGA1493).
Intel Celeron J6413, N6211 (Elkhart Lake, FCBGA1493).
Initial support for Intel ARC 3/5/7 (DG2).
Initial support for Intel Raptor Lake (13th gen).
AMD Ryzen 7 5700X, Ryzen 5 5600/5500.

AMD Ryzen 3 5300GE, Ryzen 3 PRO 5350GE, Ryzen 5 PRO 5650GE, Ryzen 7 PRO 5750GE (Cezanne).
AMD Ryzen 9 6980HX, 6900HX, Ryzen 7 6800H, Ryzen 5 6600H (45W).
AMD Ryzen 9 6980HS, 6900HS, Ryzen 7 6800HS, Ryzen 5 6600HS (35W).
AMD Ryzen 7 6800U, Ryzen 5 6600U (15-28W).
AMD Ryzen 7 5825U, Ryzen 5 5625U, Ryzen 3 5425U (15W).
AMD Rembrandt & Raphael APU (RDNA2).
AMD Mendocino APU (Zen2 + RDNA2).
AMD Radeon RX 6850M XT GPU (NAVI22).
AMD RX 6800S, RX 6700S, RX 6650M, RX 6650M XT GPU (NAVI23).
NVIDIA GeForce RTX 3090 Ti GPU (GA102-350, 450W).
Improved information accuracy when core isolation is enabled.
The improved validation process for high clock delivery (>6GHz).
Supported Operating Systems
Downloads