HTTrack is a free and easy-to-use offline browser utility (GPL, free/free) for downloading websites from the Internet to local directories.
HTTrack is an easy-to-use offline browser tool. It allows you to download websites from the Internet to local directories, recursively create all folders, and download HTML, images, and other items to your computer.
The relative link structure of the original site is governed by HTTrack. You can browse the "mirrored" website from link to link just like you would if you opened its page in your browser.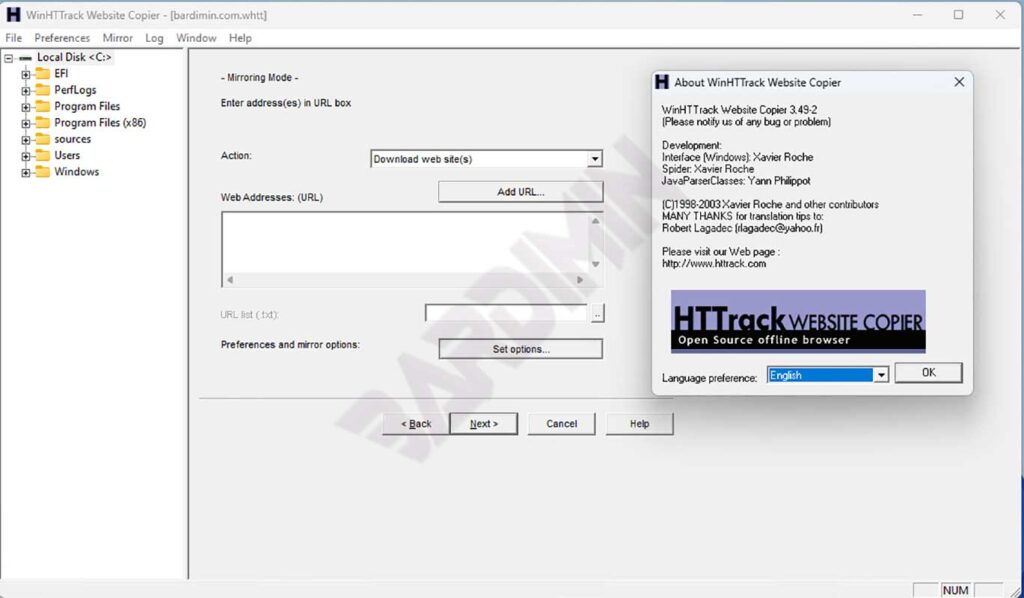 In addition, HTTrack can update an existing mirror site and resume corrupted downloads. HTTrack has an integrated help system and is fully customizable.
HTTrack Features
Free Software (GPL) (open source code provided).
Reflects one site, or over one site together (with shared links).
The recursion level that the user can choose from.
 Quickly update downloaded sites and resume dropped downloads (because of connection drops, crashes, etc.)
Filter by file type, link location, structure depth, file size, site size, site or file name received or rejected (with advanced wild cards).
The minimum timeout and transfer rate manager to leave the site is the slowest.
A wizard to determine which links should be loaded (accept/refuse: link, all domain, all directory).
The dual connection mode (default: 4 connections) maximizes download speeds.
HTTP compression (gzip.. ).
Proxy support to maximize speed, with optional authentication.
Reget (resume) for partially transferred files (HTTP/1.1).
Filenames with the original saved structure or split mode (one HTML folder, and one image folder), dos 8-3 filename options, and user-defined structure.
Automatic switch for the "Moved" error.
HTML parsing and tag analysis, including JavaScript code/embedded HTML code.
Java parsing and basic Flash.
Integrated DNS cache.
Native HTTPS and ipv6 support.
An optional log file with log-error and log-comment.
User-defined paths for mirror and log files.
Works as a command-line program, or through the shell for personal (capture) or professional use (online web mirror).
Supported operating systems
Windows, Linux, Sun Solaris, and other Unix systems
Supported languages
English, French, Castellano, Deutsch, Dutch, Polish, Portuguese, Italian, Kréyòl Matinik, Magyar, Brazilian, Simplified Chinese, Traditional Chinese, Danish, Estonian, Swedish, Turkish, Macedonian, Japanese, Slovak, Czech, Ukrainian, Norwegian, Slovenian, Romanian, Greek.
Download