The Power Supply converts alternating current (AC) power into low-voltage controlled direct current (DC). Some Power Supply devices include a choice of manual input voltages, while others automatically adjust.
The Power Supply converts the voltage from the power line to a lower voltage level for use by the computer's internal components. These internal components have varying voltage requirements, which must be met by the mains. Power is supplied to all parts of the computer through various connections.
The 24-pin connection was created as part of the Advanced Technology Extended (ATX) v2.2 specification. The 24-pin Power Supply provides an extra 3,3-volt, 5-volt, and 12-volt lines, as well as additional ground to provide power to components such as the CPU, memory, and expansion cards.
A 24-pin connection is required for any Power Supply that complies with ATX version 2.2 or higher. Even on computers with a 24-pin Power Supply, additional connections may be required for components that need power. Typically, hard disks and optical drives require their interface. Graphics cards often draw power from the motherboard and separate connections.
24-pin ATX Power Connector Pinout Reference (ATX version 2.2)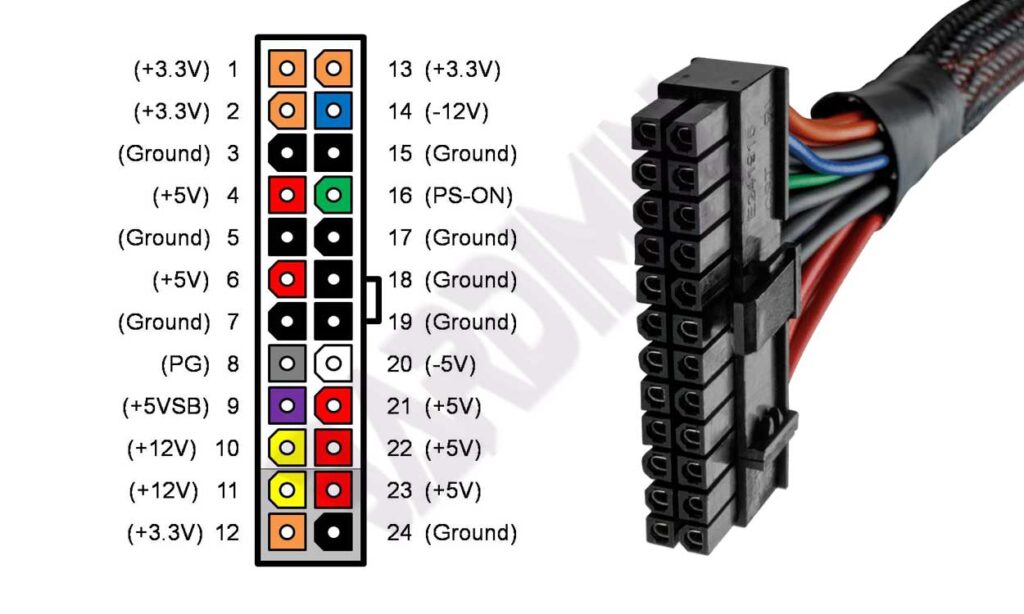 | | | | |
| --- | --- | --- | --- |
| Pin | Name | Cable Color | Information |
| 1 | +3.3V | Orange | +3.3 VDC |
| 2 | +3.3V | Orange | +3.3 VDC |
| 3 | Com | Black | Ground |
| 4 | +5V | Red | +5 VDC |
| 5 | Com | Black | Ground |
| 6 | +5V | Red | +5 VDC |
| 7 | Com | Black | Ground |
| 8 | PWR_ON | Gray | Power Good |
| 9 | +5VSB | Purple | +5 VDC Standby |
| 10 | +12V1 | Yellow | +12 VDC |
| 11 | +12V1 | Yellow | +12 VDC |
| 12 | +3.3V | Orange | +3.3 VDC |
| 13 | +3.3V | Orange | +3.3 VDC |
| 14 | -12V | Blue | -12 VDC |
| 15 | Com | Black | Ground |
| 16 | PS_ON # | Green | Power Supply On |
| 17 | Com | Black | Ground |
| 18 | Com | Black | Ground |
| 19 | Com | Black | Ground |
| 20 | Nc | White | -5 VDC (Optional – Removed in ATX12V v2.01) |
| 21 | +5V | Red | +5 VDC |
| 22 | +5V | Red | +5 VDC |
| 23 | +5V | Red | +5 VDC |
| 24 | Com | Black | Ground |