MAC Address Scanner is a free desktop app that lets you scan and find the MAC Address of any device on your local network remotely.
This application allows you to scan a single host or multiple hosts at the same time. And can display the current status of each host during scanning. Once done, you can generate an HTML-formatted thorough scan report.
MAC Address Scanner can only retrieve the MAC address for computers within your subnet. As for the other subnets, it will only display the MAC address of the Gateway or Router.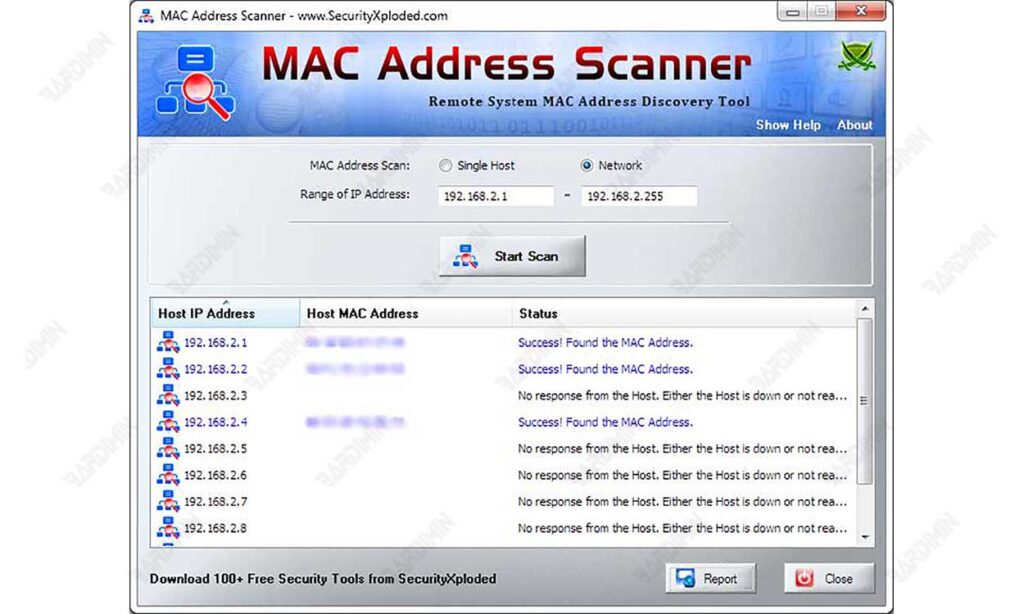 The program can assist Pentester in finding the active MAC address and using it to connect to that wireless network on certain secure Wi-Fi settings with MAC filtering enabled.
Features of MAC Address Scanner
Quickly search for the MAC addresses of all computers on the network.
Scan one or more systems.
Automatically detects your on-premises network IP address ranges
Ability to stop the scanning process 
Depictions of successful and unsuccessful hosts by color
To quickly copy the MAC address, right-click the context menu and select Copy MAC Address.
Save the scan report as an HTML document.
Free and easy-to-use utility with a great graphical user interface
 Local installation and installation help
How to use MAC Address Scanner
After installation, run MAC Address Scanner on your machine.
To search for one or more systems, select one or a network.
Enter the hosts start and end IP addresses. It should be noted that only 'class C' network coverage is supported.

Then, to start the MAC Address scanning process, click on the 'Start Scan button.
As shown in the screenshot below, it will scan and display the status and the results in the list box.
Finally, you can save the scan report to an HTML file by clicking the 'Export' button, then selecting the file type from the 'Save File Dialog' drop-down box.
Supported operating systems
Windows 11
Windows 8
Windows 7
Windows Vista
Windows XP (32-bit/64-bit)
Download MAC Address Scanner