FileOptimizer compresses files without changing the file format and is fully compatible. The file size is reduced by several compression and optimization techniques.
FileOptimizer integrates with many plugins, allowing it to handle a wide variety of file formats. Optimized files are usually smaller than the original, or at worst comparable. It is easy to use and easy to automate.
FileOptimizer is a native Win32 application, compact and fast, and works portable with no external dependencies or access to the system registry. Available for free and open source.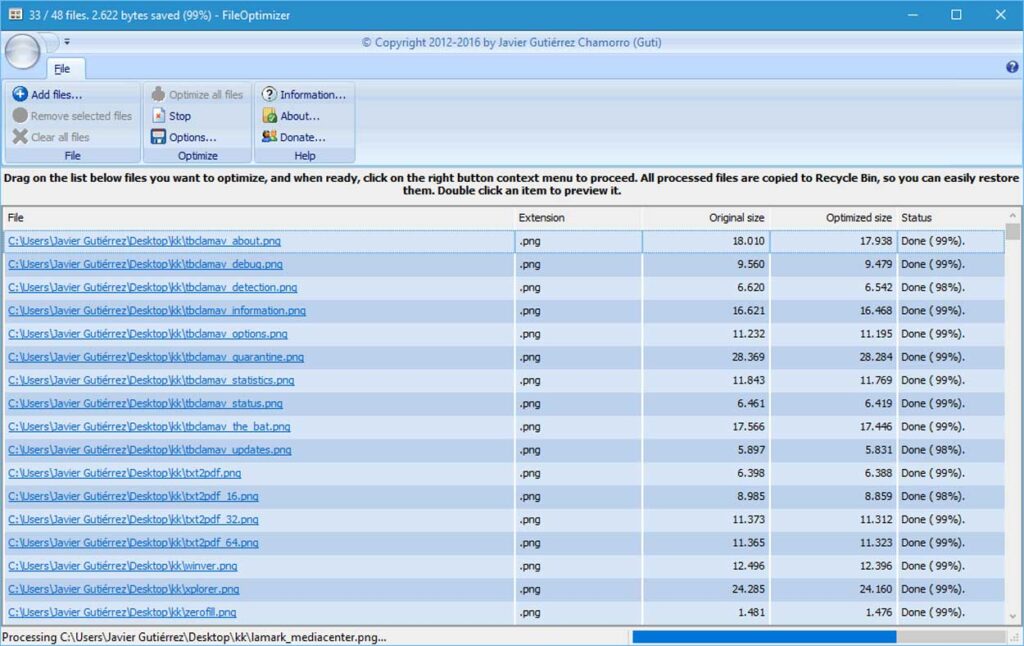 Using FileOptimizer is quite easy, drag the files you want to optimize onto the file grid in FileOptimizer, right-click with the mouse to open the contextual menu, then click Optimize. It will process all supported and added files, and overwrite them with the optimized version. You can also add files and directories for processing on the program's command line, or drag them to executable files.
By default, FileOptimizer will remove additional metadata and other information that is not needed but will keep the original file in your recycle bin just in case you want to change the original further.
Features of FileOptimizer
Over 90 third-party tools are integrated with the same tool (plugin).
Over 500 file extensions are supported, being the most complete tool available of this type.
Intelligently detect file types by analyzing their contents, no matter what extension they have.
The program interface is simple.
Easy to use.
Powerful automation through the command line.
Free and open source.
Suitable for home users who need to speed up file transfers no matter if they are on an email attachment, P2P, or shared upload server.
Suitable for webmasters to improve page loading speed.
Suitable for web developers to reduce the weight of content.

Suitable for desktop developers on any platform (Windows, Linux, macOS, …) to reduce the size of the distribution and reduce load times.
Suitable for mobile developers (Android, iOS, Windows Phone, …) to reduce the size of the distribution and reduce load times.
Suitable for server administrators who can integrate FileOptimizer via the command line.
Suitable for content creators and distributors to reduce the weight of the content.
Supported languages
English, Spanish, French, German, French, Dutch, Swedish, Italian, Russian, Korean, Simplified Chinese, and Traditional Chinese.
Supported Operating Systems
Windows XP, Windows 2003, Windows Vista, Windows Server 2008, Windows 7, Windows 8, Windows Server 2012, Windows 10, Windows Server 2016, Windows Server 2019, and Windows 11 (x86 and x64 compatible).
Download