Subtitle Edit is a free subtitle editor to create, edit and save video subtitles. The app is also available in a portable version that you can use right away with no installation.
Subtitle Edit allows you to easily change the subtitle if it is out of sync with the video in a variety of ways.
 The app also lets you sync any subtitles with the video, movie, or show you're watching. Users can also open and save files in various formats, including SRT and VTT, using Subtitle Edit downloads. It also includes advanced utilities, such as an audio visualizer, format converter, and integrated subtitle opener.
When watching movies or episodes with subtitles, you may encounter files that are out of sync or often inaccurate. To solve either of these two problems, you need a software application that allows you to edit the subtitles. Subtitle Edit is one such program that allows you to edit, generate and save subtitle files.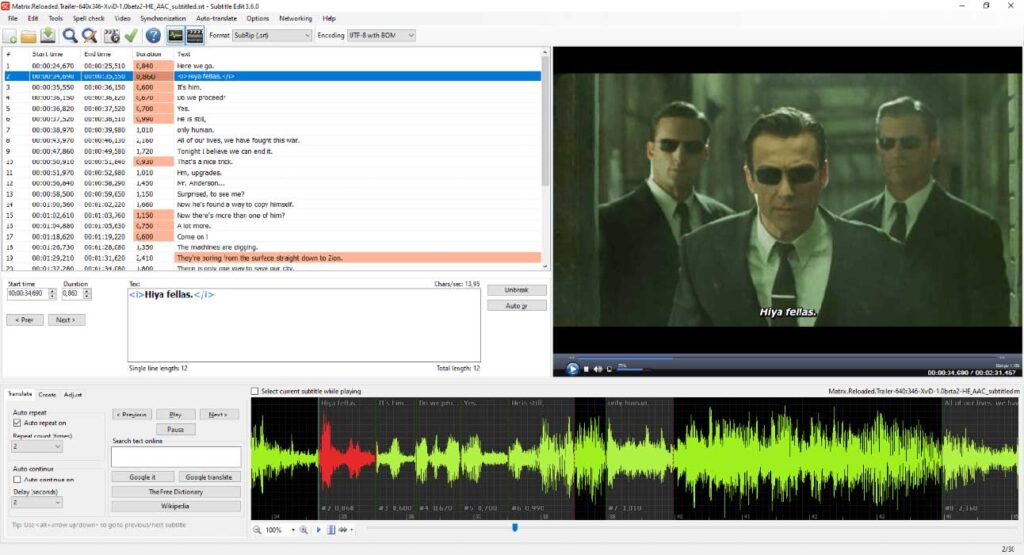 Subtitle Edit can also create new subtitles from scratch (using timelines/waveforms/spectrograms) or to translate subtitles.
Features of Subtitle Edit 3.6.8
Create/adjust/sync/translate subtitle lines
Convert between SubRip, MicroDVD, Advanced Sub Station Alpha, Sub Station Alpha, D-Cinema, SAMI, YouTube sbv, and more (300+ different formats!)
Cool audio visualizer controls – can display waveforms and/or spectrograms
Video player using mpv, DirectShow, or VLC media player
Synchronizing/adjusting subtitles visually (start/end position and speed)
Audio to text (speech recognition) via Vosk/Kaldi
Automatic Translation via Google Translation
Rip subtitles from DVD (which is already decrypted).
Import and subtitle binary OCR VobSub sub/idx
Import and .sup Blu-ray OCR files–bd sup reading is based on Java code from BDSup2Sub by 0xdeadbeef)
Can open subtitles embedded inside Matroska files
Can open subtitles (captions, closed captions, VobSub) embedded inside mp4/mv4 files
Can open/subtitles OCR XSub embedded inside divx/avi files
Can open/OCR DVB and teletext subtitles embedded inside .ts/.m2ts (Transport Stream) files
Can open/OCR Blu-ray subtitles embedded inside .m2ts (Transport Stream) files.
Can read and write UTF-8 and other unicode and ANSI files (support for all languages/encoding on pc!)
Sync: Show previous/later text + dot sync + sync via other subtitles
Merge/split subtitles
Adjust display time
Fix common error wizards
Spell checking through the LibreOffice dictionary (many dictionaries available)
Delete text for the hard of hearing (HI)
Renumbering
Effect: Typewriter and karaoke
History manager/undo (Undo=Ctrl+z, Redo=Ctrl+y)
Compare subtitles
Lots of search and replace
Change the case using the name dictionary
Merging short lines/dividing long lines
Export to PNG images (+bdn xml), Adobe Encore FAB image scripts, VobSub, Blu-ray soup, EBU stl, PAC, and plain text
Download Subtitle Edit 3.6.8